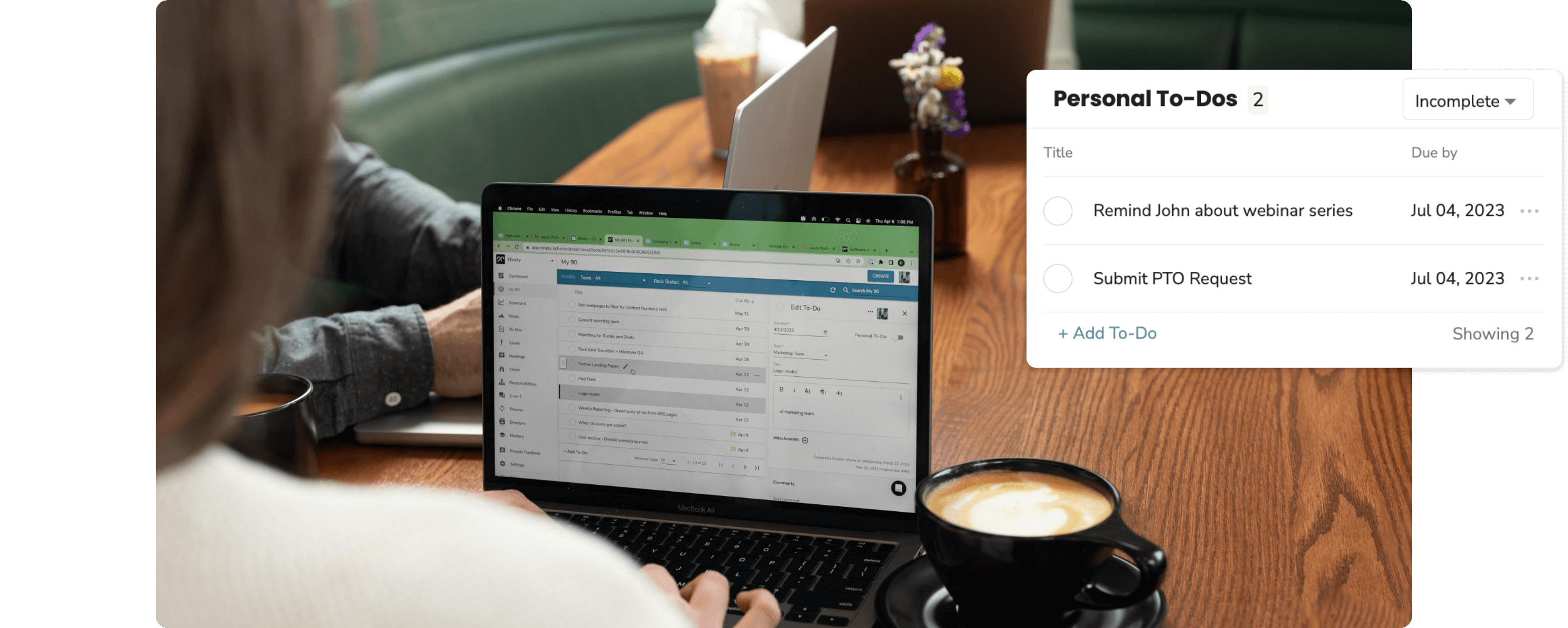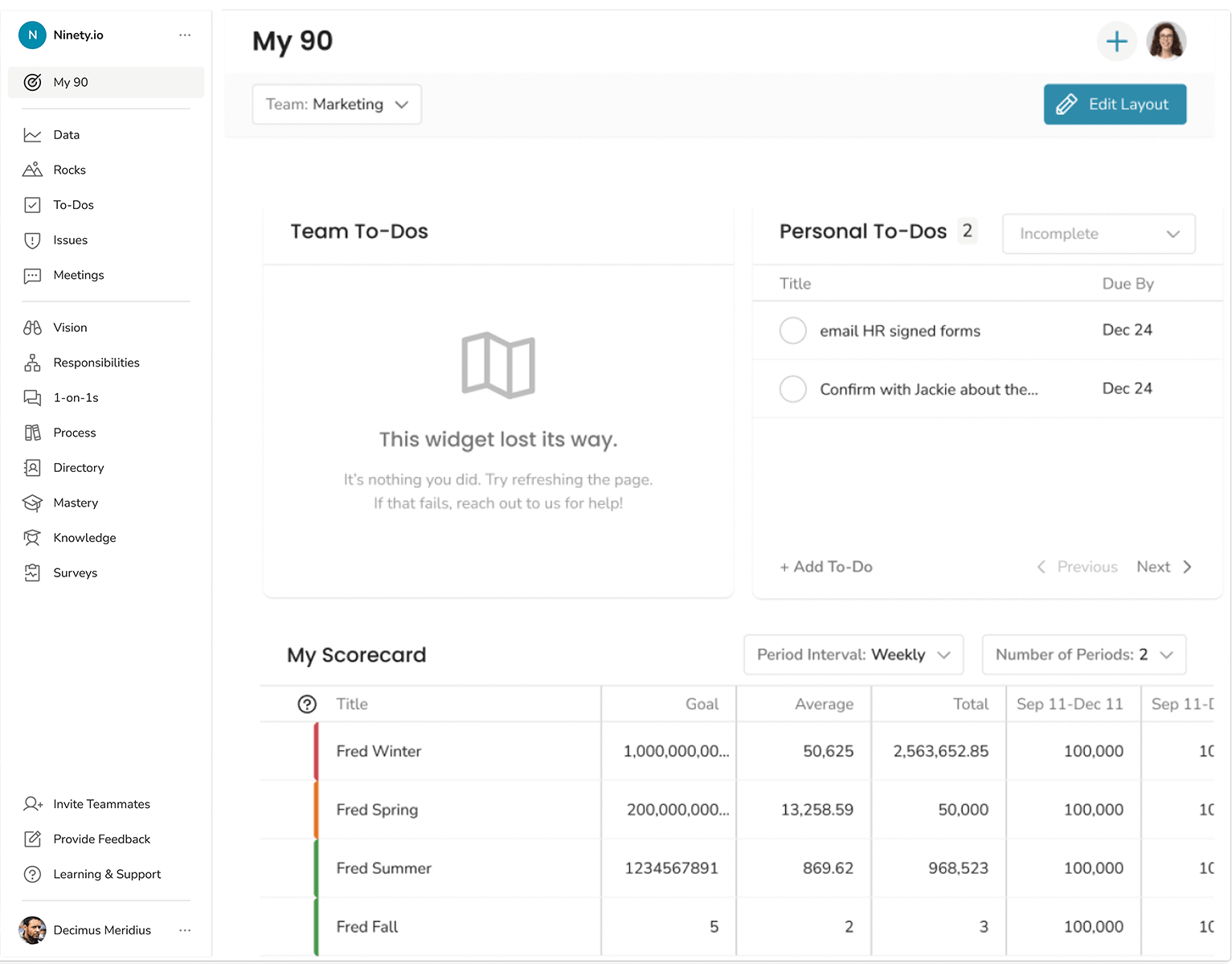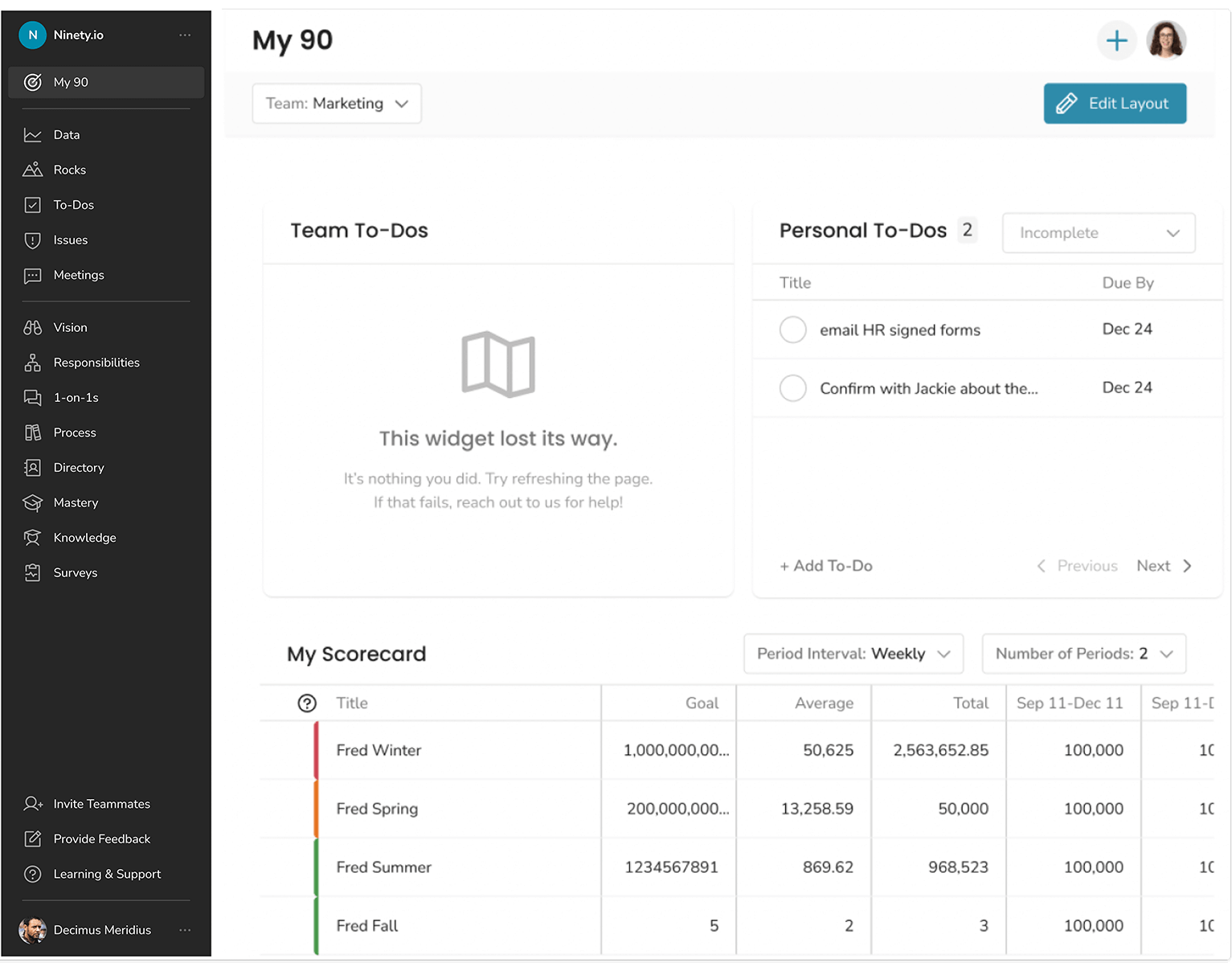 Latest Release
Main Navigation Improvements
Enhanced navigation within Ninety's app offers a more intuitive user experience and makes it easier to invite users and find educational resources as part of your day-to-day use. You'll even be able to adjust your navigation theme to meet your preferences.
You Sent us Feedback, We Listened
New features in 2023 based on your feedback
At Ninety, we listen to our clients and build the features you need to help you build a great company. Our product roadmap is crafted with your feedback in mind. Take a look at a few features our clients helped inform.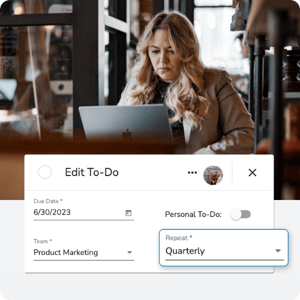 Set Repeating To-Dos
Learn More
There are certain tasks you know you'll have to do on a regular basis. And now, we've made it easy ... to represent those tasks with the introduction of Repeating To-Dos.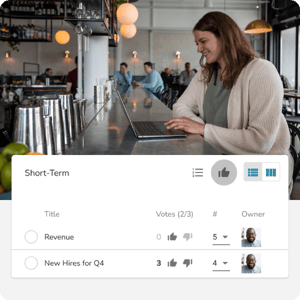 Issues Voting
Team members can now vote on issues they want to prioritize for discussion during a meeting.
Learn More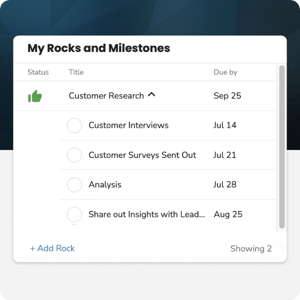 Upgraded My 90 - customized for you
Learn More
The upgraded My 90 is a customizable workspace and hub for all your key items in Ninety.... This workspace is where you'll see your Team To-Dos, Personal To-Dos, Rocks, and Scorecard KPIs across all your teams. And all in one easy view.
Always improving, so your team can too
Be sure to check out our other recent enhancements. We are constantly improving our product based on client feedback. In case you missed them, here are some other improvements we've recently made to our tools.
Custom Language
Language matters to us at Ninety. Whether it's how you talk about your data or how you describe to your vision, we think your terms in Ninety should ... reflect how your team speaks. We added customizable language so you can call tools and other platform elements whatever you'd like.
Custom Vision
Every company is unique, and their Vision should be too. Now you can customize your Vision by adding, editing, and moving sections across tabs.
Custom Meeting Types
All meetings we sit in have opportunity for improvement, not just our weekly meetings. Run more than just your weekly meeting in Ninety with Custom ... Meeting Types. Create new meeting types that best represent team cadence, such as daily stand-ups with a custom agenda.
Ninety Mastery
We believe teaching resources can be the building blocks of running a great company and using Ninety. Access 90os, EOS®, and custom content in Ninety ... and track your team's progress as they complete the trainings.
Send Issues to Other Teams
You've always been able to reassign items like Rocks, To-Dos, and Issues to a new team, but maintaining visibility on those items was ... another matter. Now you can send an Issue to another team and they can send it back, making cross-team collaboration much easier.
Issues Dashboard
Run more effective meetings by tracking the percentage of Issues solved. Our new Issues metrics dashboard will have people ready... for engaging discussions that lead to resolving more Issues in your meetings.
See what our product team has planned for enhancements next.