The tools that transform teams, in one platform.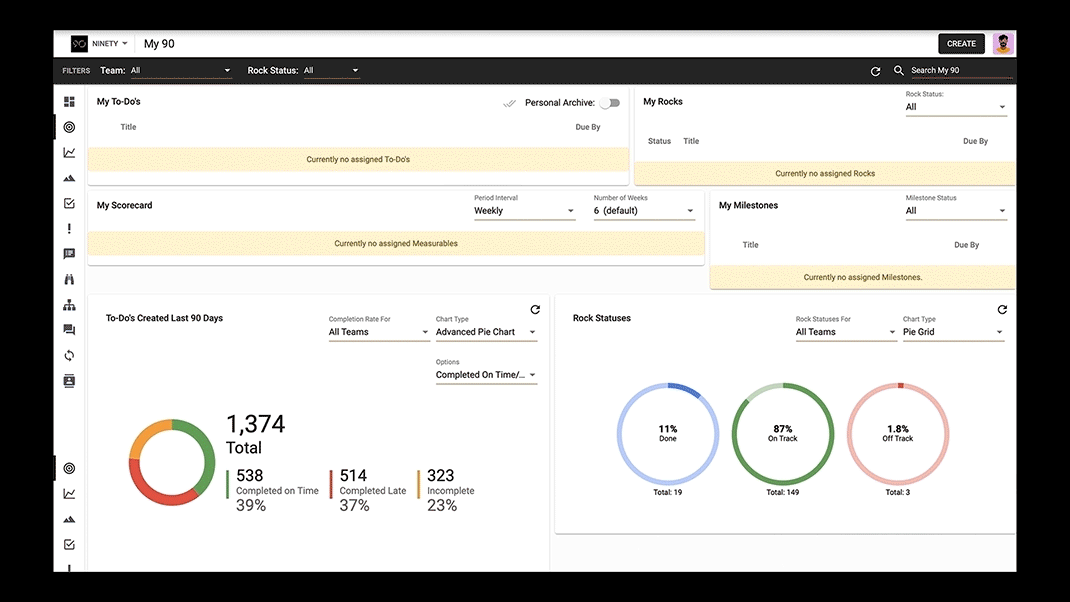 Meetings
Run better meetings.
Plan Ahead
Follow the agenda, get alignment, and track performance in weekly, quarterly, and annual meetings.
Document To-Dos
Create and assign action items during the meeting. Everything you cover will be archived.
Rate the Meeting
Attendees can rate meetings from 1 to 10, so you can track which meetings were helpful (and which were not).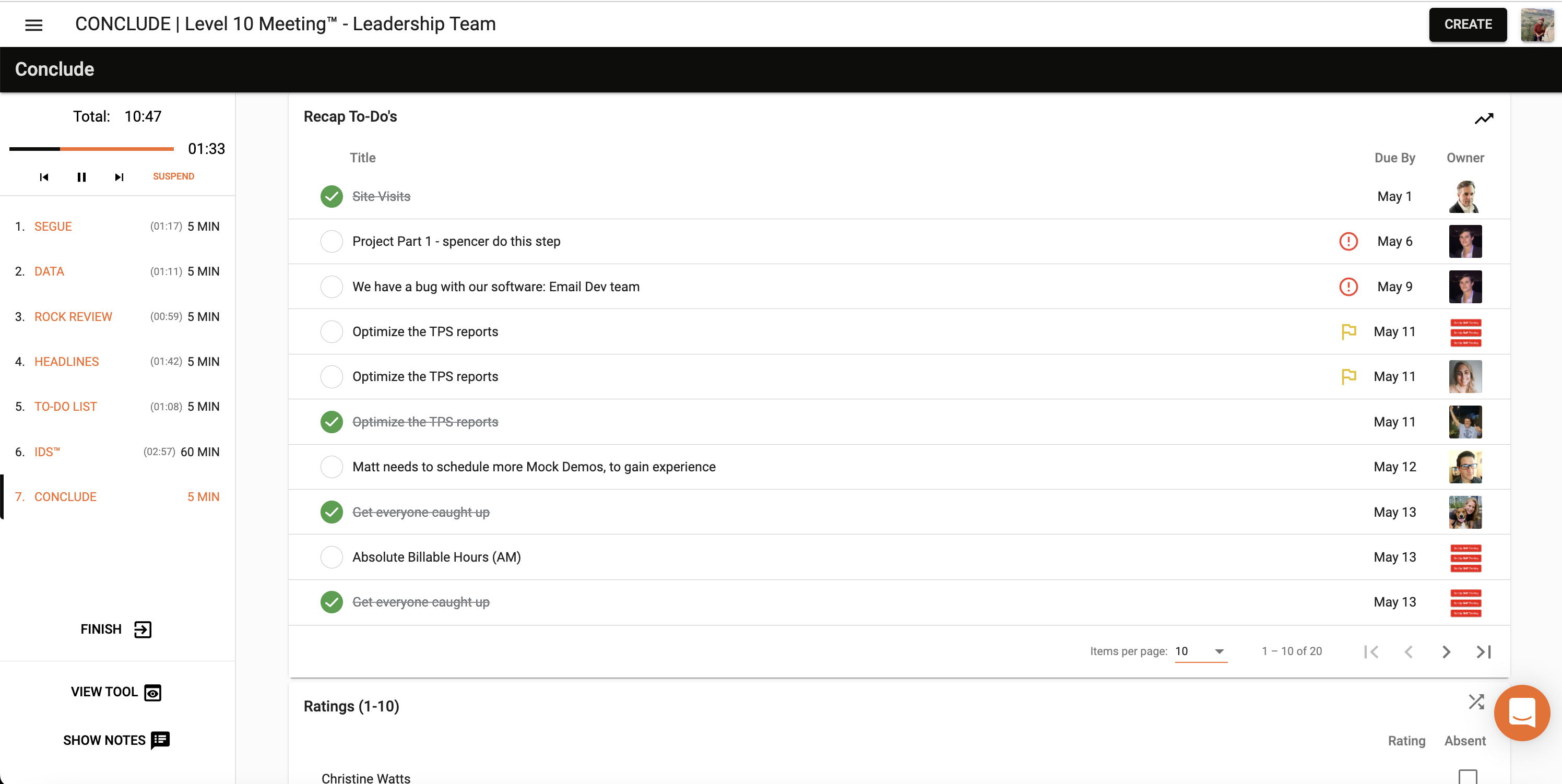 Scorecard™
Measure weekly performance.
Customize Data
Prioritize what's most important to each team, identify what needs to be focused on, and cut out extraneous data.
Set and Forget
Spend less time fiddling with external spreadsheets — just set up the Scorecards once, and the data will continue to populate.
Track Trends
Display week-over-week, month-over-month, and year-over-year data to watch trends. Everything is archived for easy reference.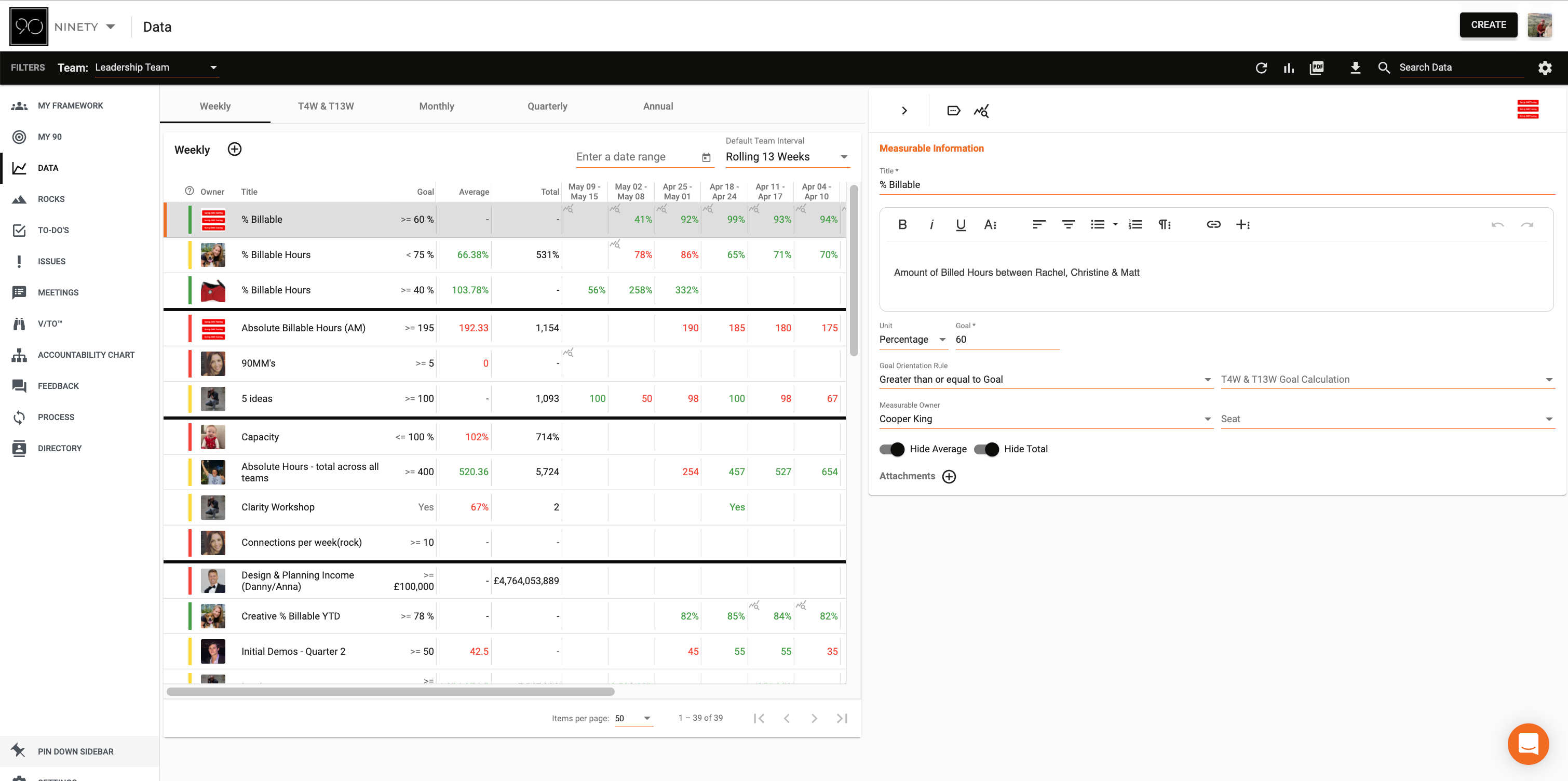 Rocks
Achieve more goals.
Create Achievable Substeps
Break down quarterly Rocks into smaller Milestones. Delegate tasks, set deadlines, and track progress toward the goal.
Get Specific
See your Rock completion rate at a glance. Add notes, links, and attach files to the Rock and each of its Milestones.
Easy Progress Updates
Your Rocks are visible in your team meetings, so you can easily create an Issue to discuss it with the team or assign To-Dos.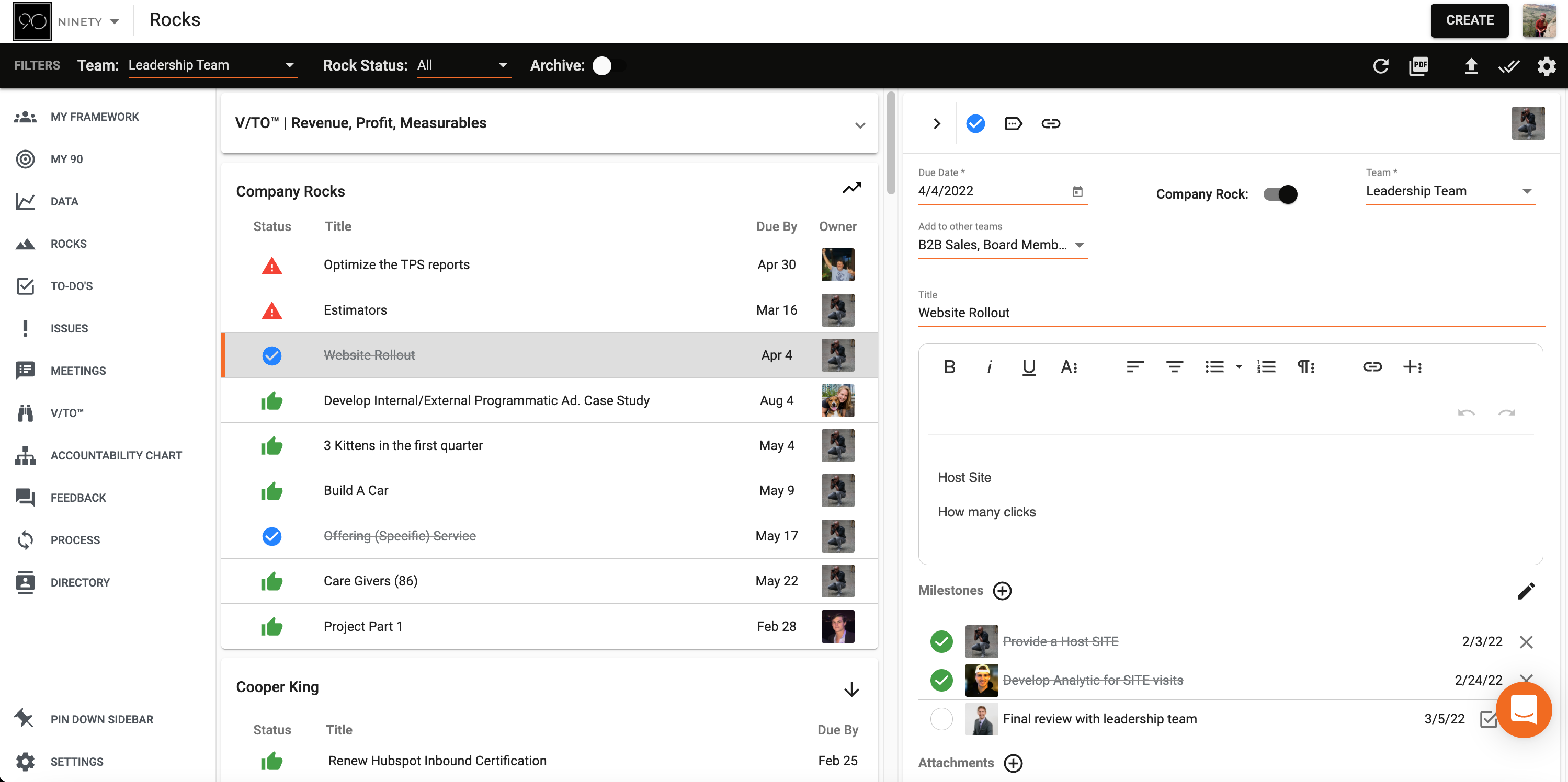 To-Dos
Delegate and track tasks.
Assign To-Dos
Create To-Dos as they naturally come up during meetings, or click on any Issue, Rock, or Milestone and assign a To-Do from it.
Add Details, Give Context
Include notes, set deadlines, add links, attachments, and more within tasks so team members know exactly what needs to be done.
Keep on Track
Track task completion rates and adherence to deadlines so everyone is held accountable for their contributions.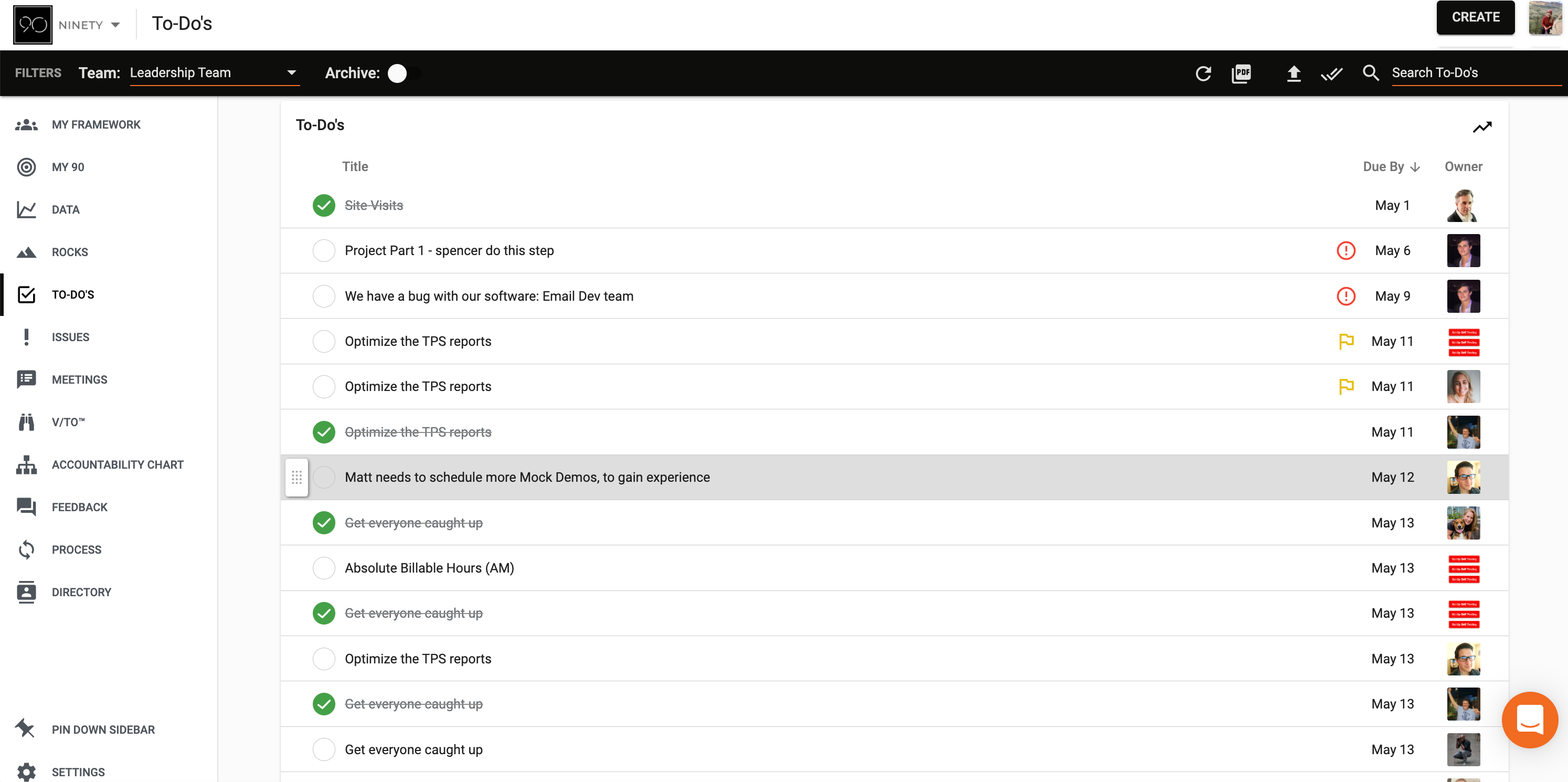 Issues
Smarter problem-solving.
Add Discussion Points
Click on any To-Do, Rock, or Milestone and create an Issue from it so you can talk about it in your next team meeting.
On the Agenda
Create Issues before (or during) team meetings and discuss them in the EOS IDS™ point of the meeting agenda.
Prioritize and Solve Issues
Discuss and solve time-sensitive topics in meetings. Take notes in each Issue, and break them into action items.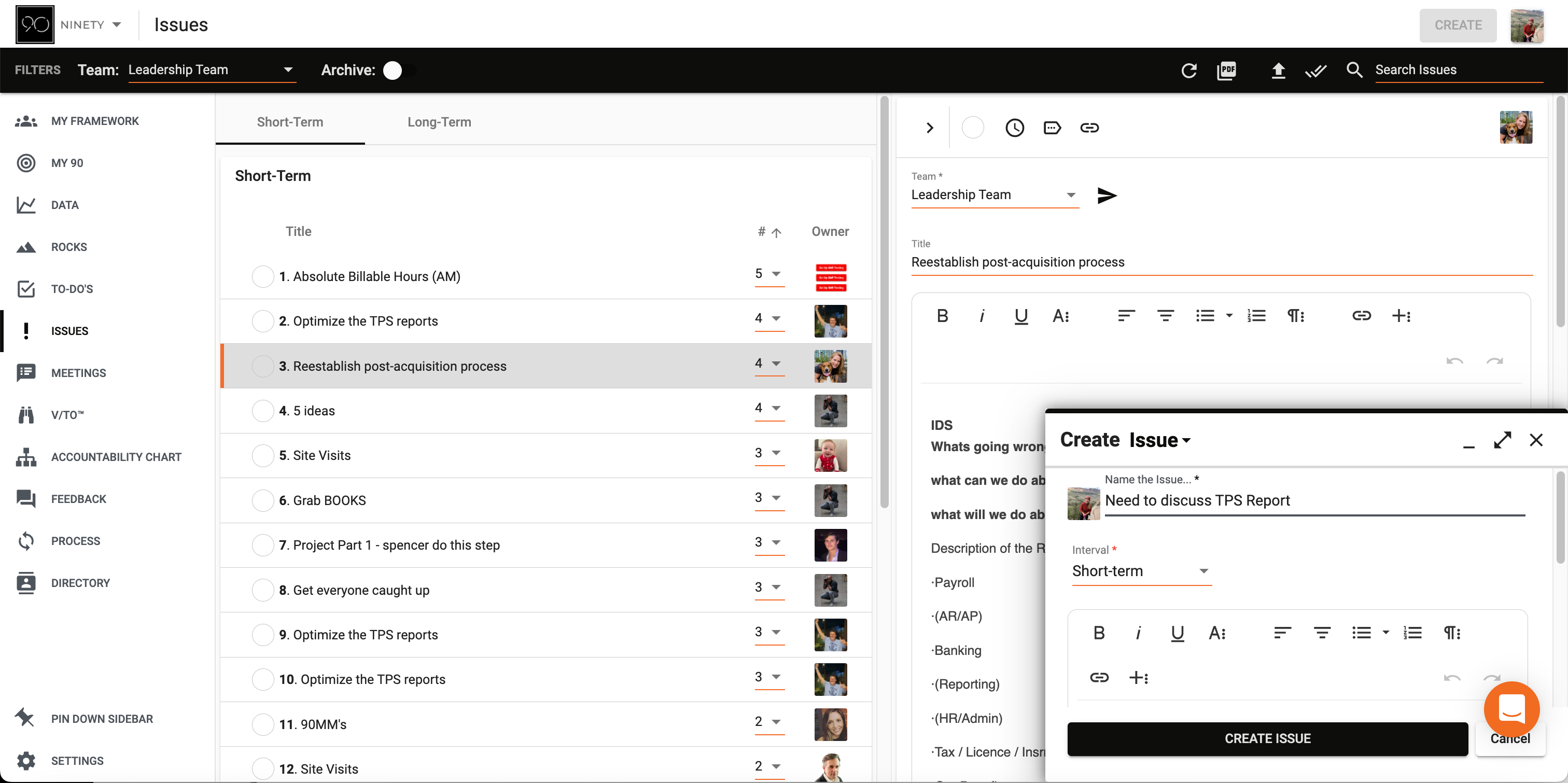 Accountability Chart™
Get accountable.
Company-Wide Visibility
Get insight into everyone's role in the organization, their responsibilities, and how they fit into the larger picture.
Improve Communication
Team members can easily find and contact the right person for interdepartmental answers and insight.
Work Across Departments
Click on any role in the Accountability Chart to quickly assign To-Dos, Issues, or Rocks to that person based on their expertise.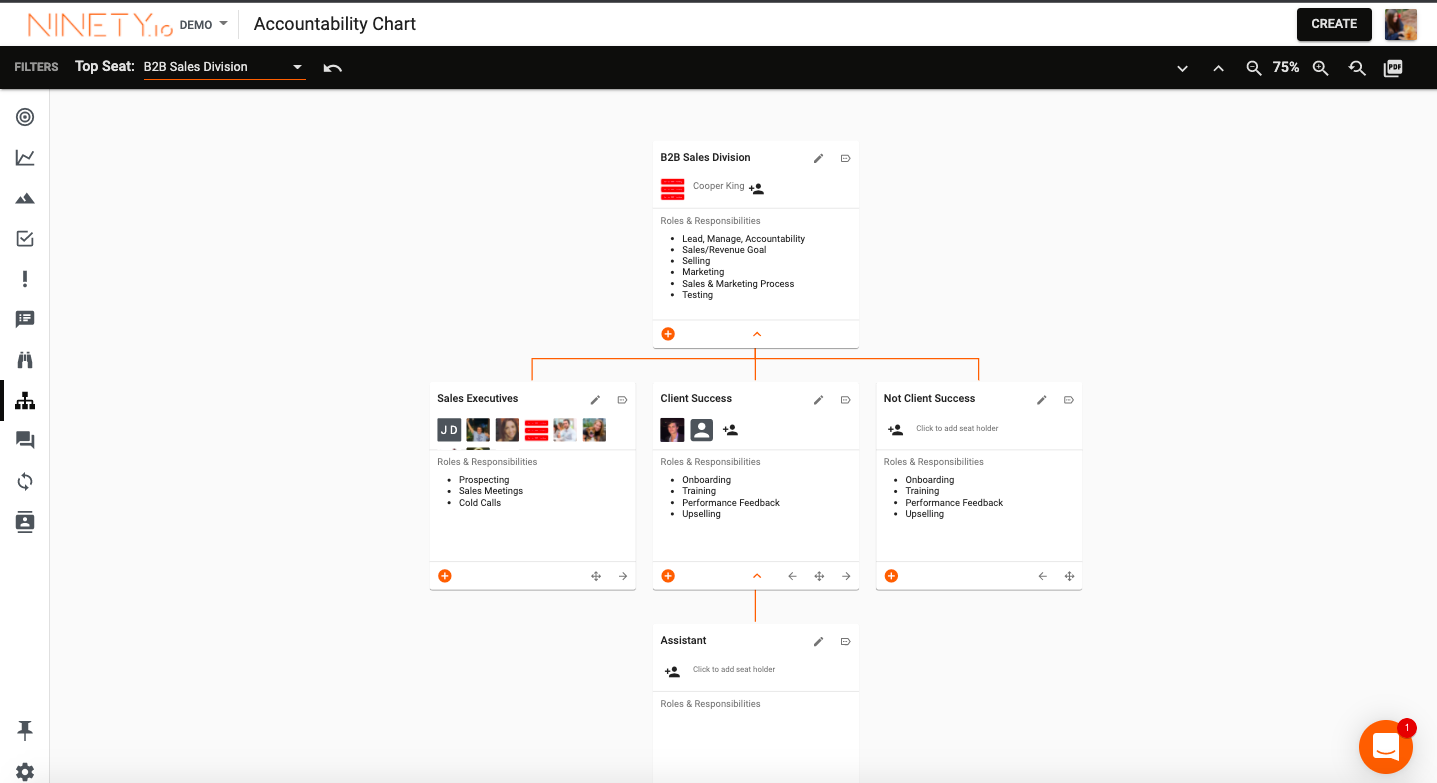 Vision/Traction Organizer™ (V/TO™)
Share your vision.
Make a roadmap
Develop the specifics of who you are, where you want to go, how you'll get there, and potential challenges and opportunities ahead.
Communicate the Mission
Easily display the details of your EOS 3-Year Picture™ and 10-Year Target™, so everyone knows to move toward the same goals.
Access Your History
You can archive every version of your V/TO, so you can see where you've been — not just where you're going.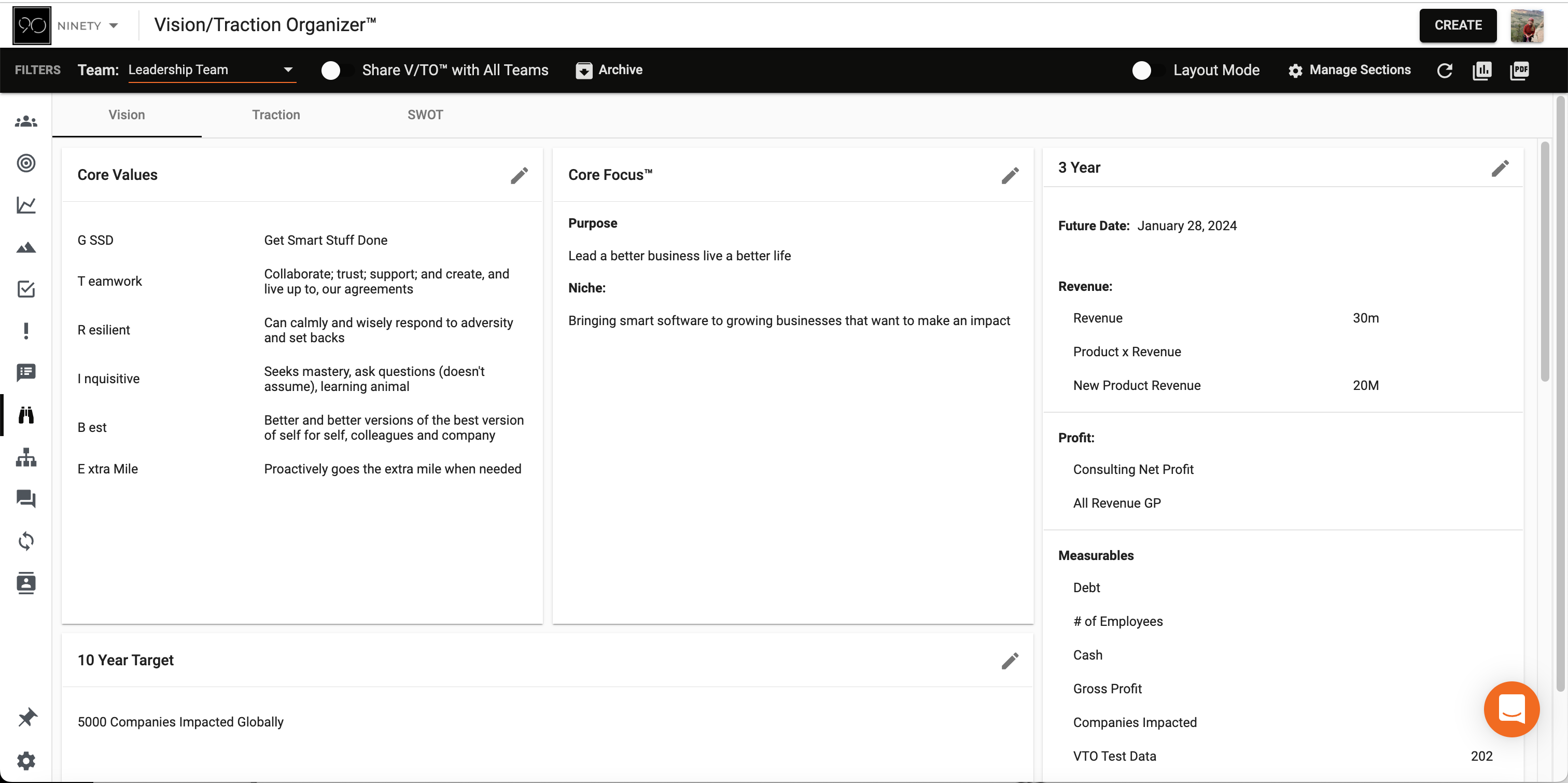 Process
Document your processes.
Refine Workflows
Visually break down how everything is done and who is responsible for what, so anyone in the organization can learn the procedure.
Get Detailed
Create checklists, assign responsible parties to steps and sub-steps, track performance, add links and attachments, and more.
Make Improvements
Easily assess existing processes at a glance to find sticky spots, delegate steps, and continually improve efficiency.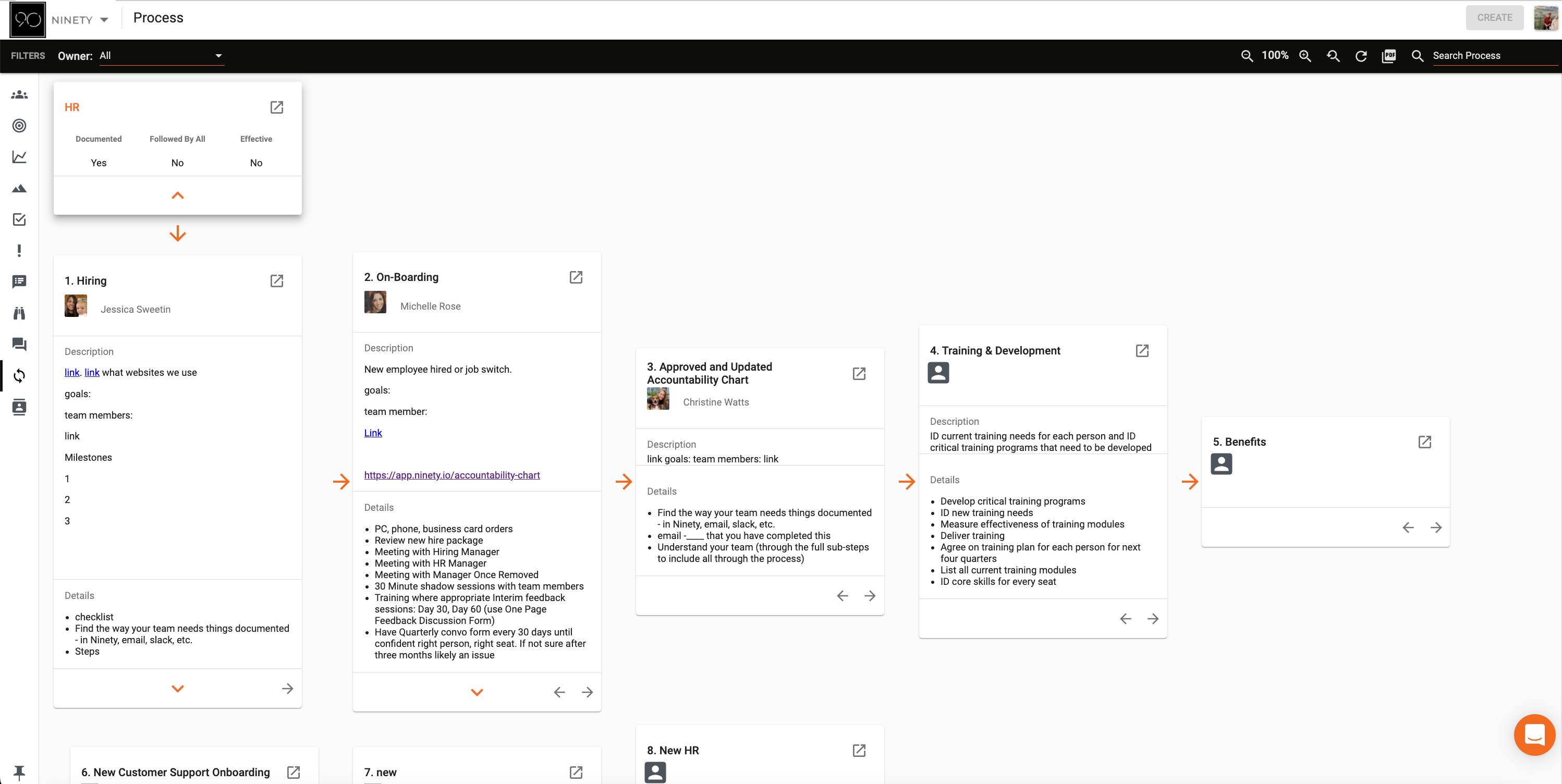 Feedback
Give and get feedback.
Meaningful Conversations
Employees and managers can review themselves (and each other) and see the comments side-by-side to offer impactful feedback.
Roles and Responsibilities
Revisit roles and responsibilities and how they fit into the big picture by connecting your EOS Accountability Chart™, Rocks, and V/TO™.
For the Record
Archive everything discussed, so you can both reference the information before the next Quarterly Conversation™ or review.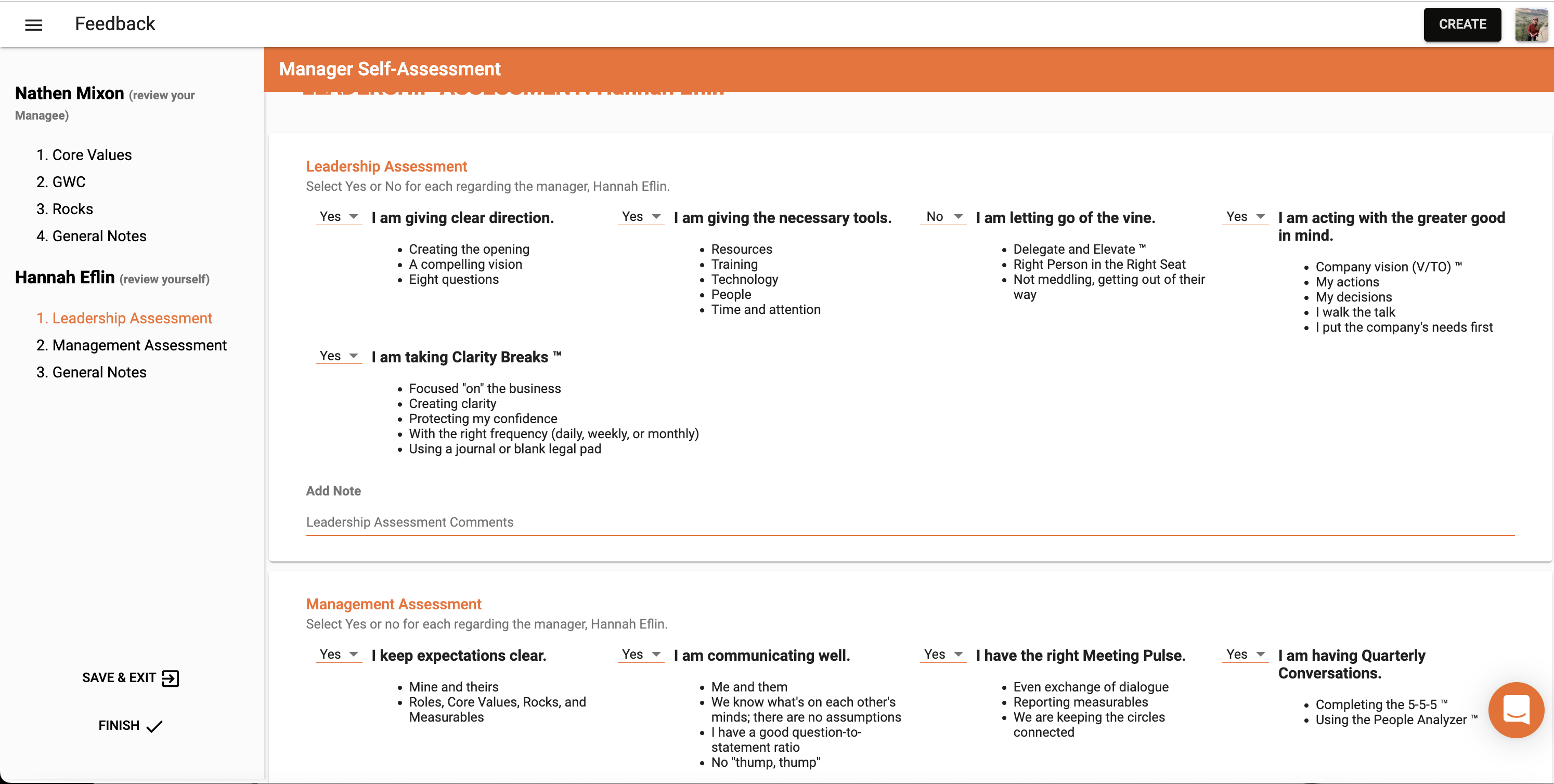 Plus, enjoy these great features across all of our tools.
Rich Text Editing
Format any text with bullet points, links, and more.
Add Attachments
Attach files to provide context and keep documents together.
Make It An Issue
Right-click to instantly create To-Dos or discussion topics.
Archived Content
Easily view past items on each page via toggling and a search.
Mobile-Friendly
Access Ninety from your desktop or phone browser.
Comment on Items
Add your notes for quick and easy collaboration.
Export Content
Print to PDF from any page, and export data to Excel.
Revisit Details
Quickly edit deadlines, reassign tasks, and rearrange details.
Real people, real-time response.
7 days a week.
We have an average response time of less than 5 minutes during our office hours.
Office Hours
Monday – Friday, 6 a.m. – 9 p.m. ET
Saturday, 7 a.m. – 5 p.m. ET
Sunday, 12 – 10 p.m. ET
Languages
Our support team speaks English, Spanish, French, and German!
Click the bottom right-hand chat bubble to talk to an actual person.