What Is the EOS Model® and How Can It Transform Your Business?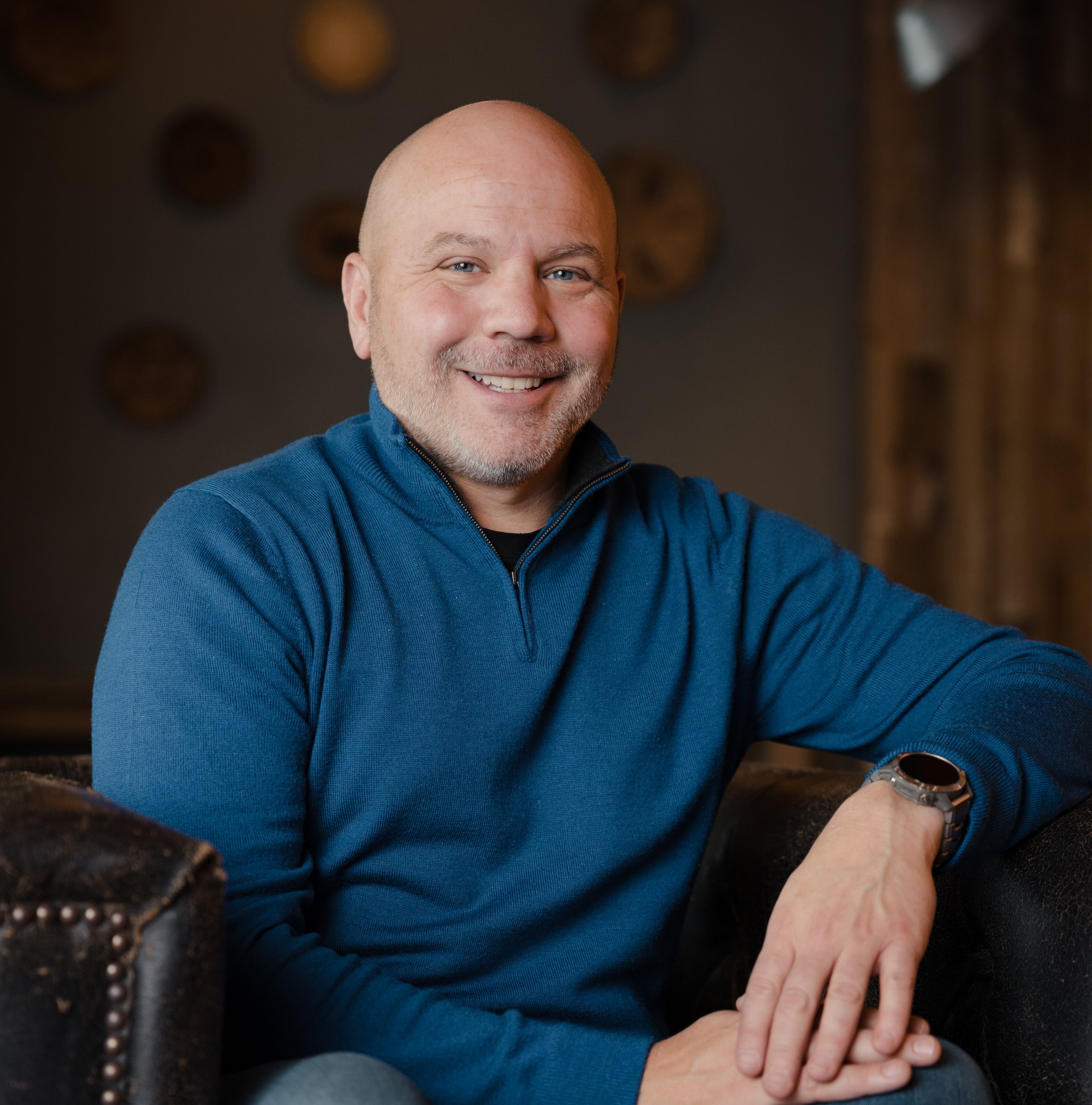 Editor's Note:

Kris Snyder is a Professional EOS Implementer® who has worked with 50+ clients and hosted over 300 session days, all Powered by Ninety.
There's a phenomenon in business known as "hitting the ceiling." It's a tipping point where organizations either take appropriate measures for continued growth or essentially plateau, becoming stuck where they are. As the saying goes, you either grow or die.
It stands to reason then that, metaphorically speaking, breaking through the ceiling can be difficult. But a certain clarity surfaces when there's a proven business model in place to help you break through the ceiling and get what you want from your business. The EOS Model provides a visual illustration of the Six Key Components® of any business pursuing greatness.
We're going to break it all down, zeroing in on the Six Key Components of the EOS Model designed to help businesses gain clarity, simplify, and achieve their vision. Please keep in mind that this is a "forever work in progress." From our experience, it's best to set the goal to be 80%+ strong in all six.
Key points:
Exactly what the Entrepreneurial Operating System® business model is and why entrepreneurs will significantly benefit from using it
The Six Key Components of the EOS Model: Vision, People, Data, Process, Issues, TractionⓇ
How to implement EOS® into your business using Ninety's cloud-based platform
The EOS Model: What Is It, Exactly?
Among the many business-building systems out there, EOS stands tall as a proven model that's helped tens of thousands of entrepreneurs worldwide realize their vision for success. Implementing EOS, above all else, helps leaders of small to midsize businesses clarify, simplify, and achieve their Vision. While it can be used for companies of any size, it's typically implemented in organizations ranging from 10–250 people.
The EOS Model illustrates a comprehensive collection of concepts and tools that comprise what I call a "people operating system." It's designed to align everyone around the established Vision, get everyone on the same page working toward the same goals, and provide the tools and processes needed to achieve them.
What it also does? It helps business owners get out of their own way, allowing them to find the right balance between working on the business and working in the business.
By becoming strong in the Six Key Components of the EOS Model, entrepreneurs will find themselves leading an organization built on accountability and transparency, one that is able to address and resolve many of the issues that often plague young businesses. That, in turn, will help support all the business goals and activities that help the organization run more smoothly and profitably.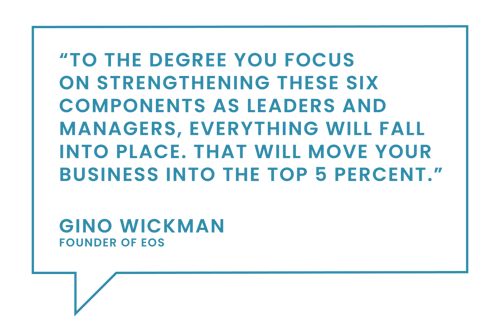 The Six Key Components of the EOS Model
Let's get into the critical areas of focus, the Six Key Components — Vision, People, Data, Process, Issues, and Traction. We'll first share how EOS defines each of these components and then cover the associated EOS tools that Ninety brings to life to help businesses thrive. Or you can check it out for yourself right here: EOS Powered by Ninety.
Vision
Get everyone in your organization 100% on the same page with where you're going and how you plan to get there.
The Vision Component® is where it all starts. The Vision Component of the model includes 8 questions and a concept called Shared by All. The 8 Questions™ ask us to identify Core Values, Core Focus™, 10-Year Target™, Marketing Strategy, 3-Year Picture™, 1-Year Plan, Rocks, and Issues List. Together, these function as focus filters to enable your organization to know where you've been, where you are, and where you're going.
However, it takes everyone working as one to achieve being a great company, which is where Shared by All comes in. This is different from sharing with all. We want to create buy-in to our Vision, so we'll activate it through rituals and artifacts.
Rituals are things we do and artifacts are things we create that remind us of our Vision elements and enable them to be Shared by All. Our State of the Company quarterly meetings, quarterly review of the Vision/Traction Organizer® at leadership and department meetings, and Core Value shout-outs at Level 10 Meetings™ are just a few of the methods we use to activate Shared by All.
People
Simply put, we can't do it without great people. This means surrounding yourself with great people, top to bottom, because you can't achieve a great Vision without a great team.
The People Component™ consists of Right People and Right Seats. To know we have the Right People, we need to establish our Core Values and ensure that team members align with our 3–5 Core Values. Right Seats is all about having a strong Accountability Chart. This is a great tool for organizational transparency, providing visibility to the 5–7 roles and responsibilities for every seat. It removes all the ambiguity about who does what and promotes better communication and collaboration throughout the organization.
To bring it all together, we use the People Analyzer® tool to review each individual for Core Value alignment and determine if they GWC™ their seat — meaning they Get it, Want it, and have the Capacity to do it. The Right People don't need or want to be tightly managed. They don't want to be held accountable. They want to be accountable through a system with clear agreements so they can thrive.
Data
This means cutting through all the feelings, personalities, opinions, and egos and boiling the organization down to a handful of objective numbers that give you an absolute pulse on where things are.
The Data Component™ is a favorite for many because it's the key to making the best decisions for your business. It consists of a Scorecard and Measurables, and it represents an objective view of where things stand. (We've seen far too many entrepreneurial leaders trusting their gut for weekly key decisions, and it's not good.) A strong weekly Scorecard with 5–15 leading indicators, or Measurables, will create a pulse and help you track the health of — and ultimately predict the path for — your business.
Issues
Strengthening this component means becoming great at solving problems throughout the organization — setting them up, knocking them down, and making them go away forever.
The Issues Component® consists of the Issues List and IDS®. Together, we refer to these as The Issues Solving Track™.

Every team has issues. The Issues Solving Track is our ability to quickly identify issues, prioritize them (top 3), and then practice the proven process of IDS to Identify, Discuss, and Solve them. Too often, we list the symptoms and not the root cause of the issue. We need to dig down and truly find out what is stopping our progress.

The discipline becomes apparent in the Discuss phase. So many teams circle around and around and start to politic for the potential solution. Our experience shows it's best to stick to the facts and remove conjecture. Once we arrive at a Solve, it often ends in a To-Do or two to be done in the next week.
Process
This is the secret ingredient in your organization. This means "systemizing" your business by identifying and documenting the Core Processes that define the way to run your business. You'll need to get everyone on the same page with what the essential procedural steps are, and then get everyone to follow them to create consistency, efficiency, and scalability in your organization.
The Process Component™ consists of two tools/disciplines, Documented and Followed by All. Documented refers to 8–14 Core Processes that drive results. We think of it as 20/80 — identifying the 20% Core Processes that drive 80% of your business results. EOS has a great tool to aid in documentation called the 3-Step Process Documenter™, and once you have shared with all, you can leverage the Followed by All checklist to verify buy-in and use. Anyone can easily assess existing processes at a glance to find sticky spots, delegate steps, and continually improve efficiency.
Traction
This means bringing discipline and accountability into the organization — becoming great at execution — taking the vision down to the ground and making it real.
The Traction Component®️ consists of Rocks and The Meeting Pulse®.
Rocks are simply the 3–7 most important quarterly goals that keep us progressing toward our annual commitments. They act as focus filters during the quarter, mitigating the distraction of shiny objects that might pop up so we can achieve our goal of 80%+ of Rocks completed in the quarter.
The weekly Level 10 Meeting is a great way to check in throughout the quarter and ask the question of whether or not Rocks are on or off track. If the Rock is off track, then we IDS it as a team. The Meeting Pulse acts as a guide to having the right meetings throughout the year and allows us to challenge ad-hoc meetings (like the daily drive-by, when people pop in and ask you "for a minute" when they really mean 20). Being able to ask if it can wait for the weekly L10 saves an incredible amount of time. Traction is truly the opposite of feeling unorganized and chaotic.

Implementing EOS Into Your Business
There are two ways to implement EOS: self-implementation and professional implementation. Regardless of your initial leaning, we encourage you to research an EOS Implementer® who matches your team and invite them to provide a free Help First consultation. They'll review the EOS Model and tools, answer your questions about implementation, and describe how a professional implementation differs from self-implementation. There isn't a wrong choice; it's really about where your business is at and what it needs for a successful implementation.
Once that has been decided, the next step is to begin implementation, and that's where Ninety can help.
EOS Powered by Ninety is the only licensed software to run your organization on EOS. Ninety's cloud-based platform helps you implement and leverage EOS faster, easier, and more effectively. Instead of using scattered spreadsheets, pictures of whiteboards, and the like, Ninety's platform enables the automation of the core EOS tools and principles, hosting everything in one convenient place.
The Ninety Client Success team is always ready to help. Here's how it all works:
Sign up for a 30-day free trial and set up your EOS tools into one simple hub to get everyone on the same page. We'll even upload your existing data for you, including your company directory.
Interconnect your EOS tools. Instantly begin building your Accountability Chart from the directory, adding Issues, and hosting Level 10 Meetings.
In our Meetings tool, we have the three meeting agendas you need to get started implementing immediately: Focus Day® and Vision Building® Days 1 and 2.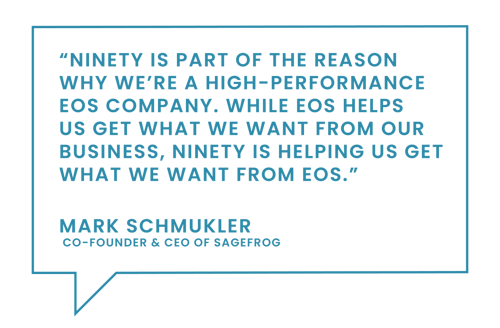 Now's the Time to Try EOS Powered by Ninety
If you're ready to accelerate and scale EOS, Ninety is the way to go. And you can try it for free, with no contract or credit card required.

After all, hitting the ceiling is inevitable. Predicting, preparing, and having the ability to break through is the work we need to do as entrepreneurial leaders. The EOS Model is a guide to understanding the concepts, tools, and disciplines of implementing EOS as a business operating system.
While building a great business is "forever a work in progress," Ninety is always here to help.
Receive EOS® best practices, tips, and insights every week.