Scorecard
Best Practices
Great tips for getting the most out of the Ninety Scorecard features. Everything from building the right Scorecard to reporting on weekly metrics in a Trailing Four and Thirteen Week view.
Using an Implementer or coach?
They can help you hone in on the perfect Scorecard too!
What is the Scorecard?
The Seven Truths
Scorecards should lead to help refine strategy/direction.
Not all measurables are created equal. Decide where to track your leading vs. lagging indicators.
Commit to a measurable driven culture and data literacy to keep agreements clear.
Measurable accountability leads to high trust and healthy culture.
Each measurable will not be perfect forever. Establish a process for consistently reviewing / refining.
Leveraging technology can give you a boost.
Something is better than nothing. Don't get hung up on finding the perfect numbers; just start.
Every meeting has a Scorecard which is a
curated list of measurables

specific to that team.
Scorecard Setup / Practice
The Fundamentals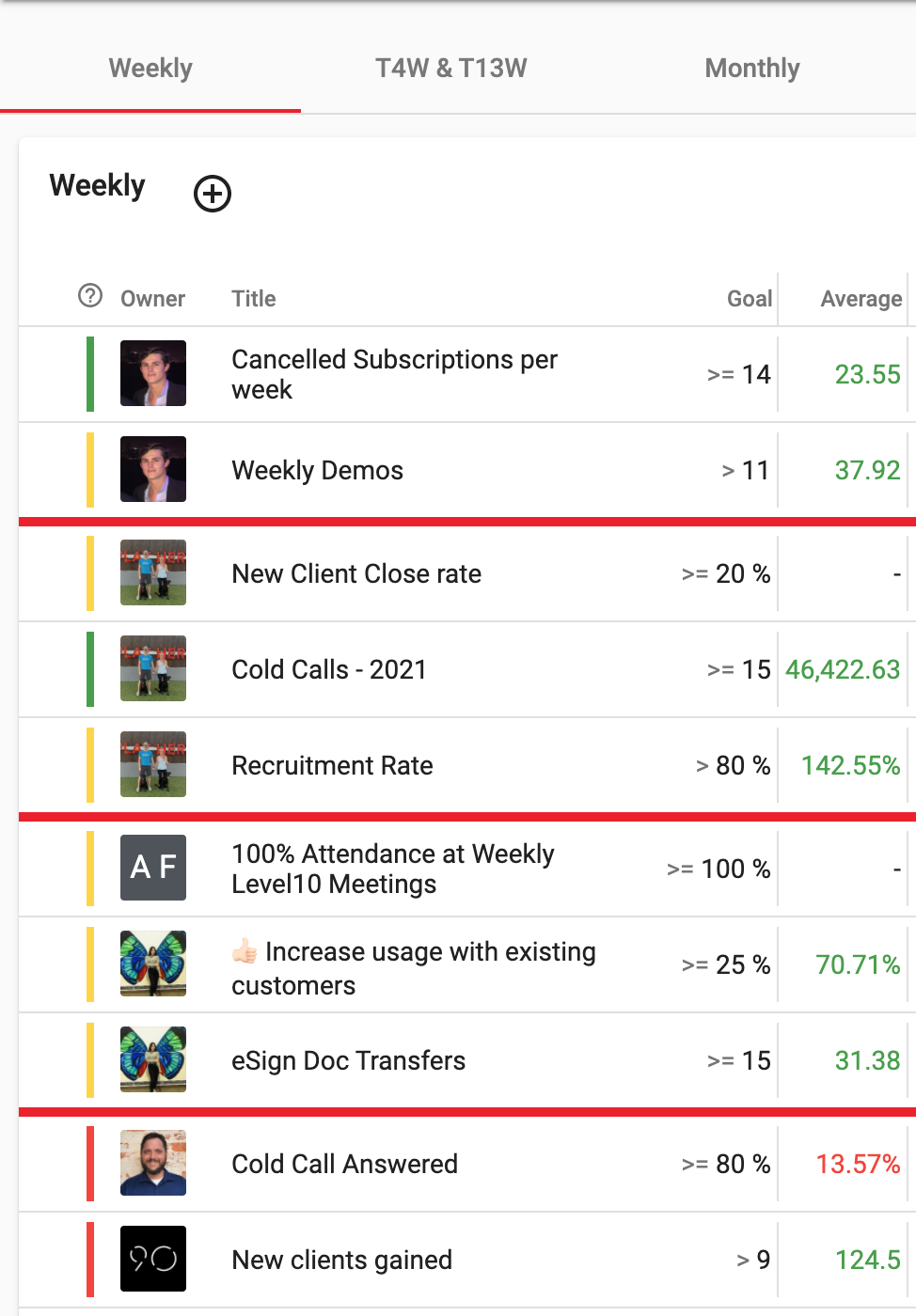 Seats own measurables
Look at the Accountability Chart. Every seat should have 3-5 measurables.
Set goals
Don't set a lofty goal. Agree on a number that everyone knows when the measurable is below, it's an issue.
5-15 numbers
The Leadership Scorecard has 2-3 items from each area of the business. Let department level teams track the details.
Review it weekly
Each week, every team runs a Level 10 Meeting™ and reviews its Scorecard to see if there are any issues.
Drop them to issues
Measurable not hitting the target? Make it an issue during the meeting to catch problems early.
13 weeks at a glance
See all of your data at a glance, and even how your weekly metrics are performing over time.
Improve your Data
How to Build a Great Scorecard in Ninety
Weekly, Monthly, Quarterly, Annual
Build your Scorecards
The Weekly Scorecard comprises 5-15 measurables, and for the Leadership Team, that typically means 2-3 from each functional area.
When you are ready to start building your Scorecard, use the + next to Weekly and "Create a New Measurable." If you would like to add that same measurable to an existing Scorecard, go to the second Scorecard, use the + and choose "Add an Existing Measurable".
Ready to track measurables at different intervals? Go to the Monthly, Quarterly, or Annual tab to add measurables that you do not track weekly.
Build Accountability
Seats own Measurables
When choosing who the owner of a measurable is, look at the Accountability Chart. A seat owns a measurable since a seat is responsible for a business function.
If there is more than one person in the seat, it may make sense to have the same measurable with different goals depending on the person. reasons would include experience levels or different weightings of specific responsibilities.
This measurable ownership drives accountability for the individual areas of the business and helps you focus on structure first, people second.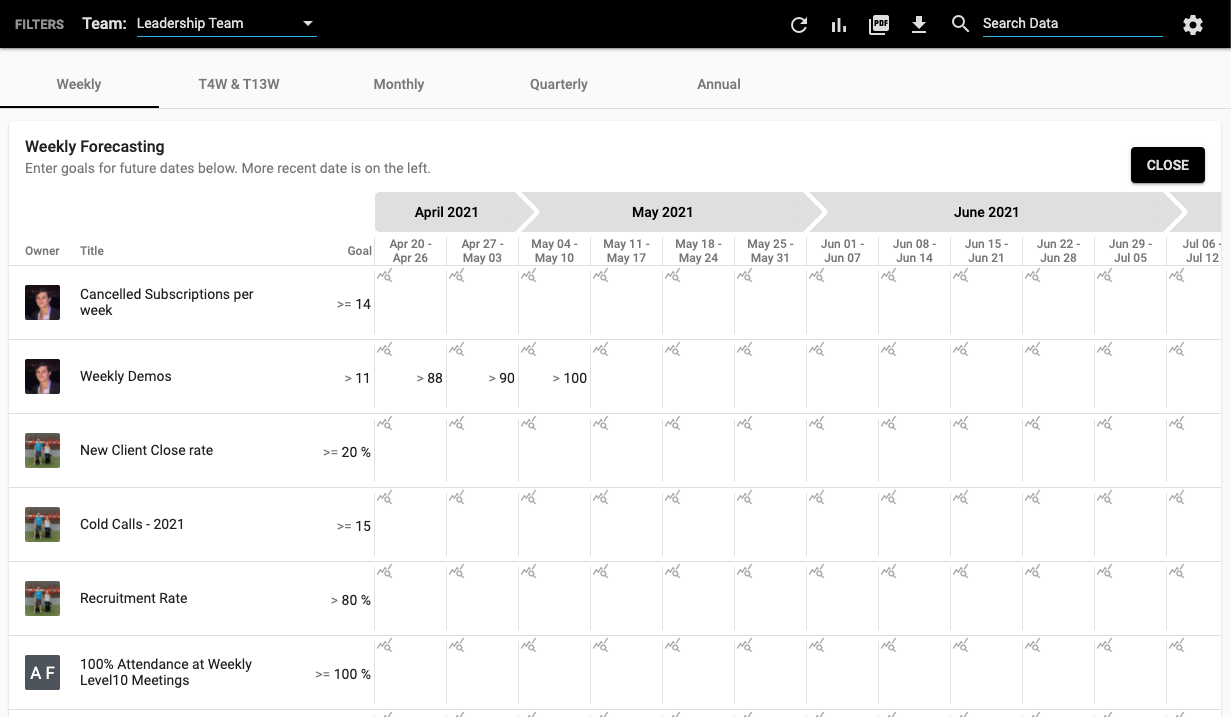 Customize for Growth
Set your Goal
The goal shouldn't just be a number you are trying to hit. Define the goal to be the number below which the manager and seat owner agree there is an issue.
Choose your default goal when editing the measurable, and if your goal varies, change the custom goal.
With each measurable, you can have a unique unit, meaning it tracks as:
Number, Currency, Percentage, Yes/No, Time (HH:MM:SS)
Choose how you would like to track your measurables through the unit and establish goals. You can select a range, or greater than, less than, or equal to determine if each score is successful for each goal. We call this the Goal Orientation Rule.
Enter your Projections
Goal Forecasting
Goal forecasting allows you to enter your goals for future weeks. You probably know what goal you want to hit months from now, so have it all pre-loaded into Ninety so you can look at real goal vs. actual information week over week.
This custom goal setting is perfect for the ebb and flow with seasons or just constantly pushing the limit and increasing your goals over time.
When creating a measurable, you set a default goal, but using the Goal Forecasting button, you can enter goals well into the future Weekly, Monthly, Quarterly and Annual Scorecards.
When entering goals, the Goal Orientation Rule will remain the same; however, you can add specific notes to each cell to specify why a goal may be changing in that specific way.
Have a lot of goals to enter? Send us a chat and
we can upload them for you

!
Aggregating Weekly Data
Trailing Four Weeks & Trailing Thirteen Weeks
Eager to see your weekly data in a monthly or quarterly view? Because the start of the week isn't always perfectly lined up with the calendar month, we have developed a way for you to see your weekly data aggregated together in the trailing four weeks or trailing 13 weeks.
On each measurable, you can choose if it should be a four-week total or a four-week average (by default, measurables are an average).
Use the + to add all measurables from the weekly Scorecard to the T4&13W view, or choose specific measurables to view.
Once on the page, there is no editing the values; it is simply reading the goal and the last four weeks over time to give you the most accurate "monthly" and "quarterly" view.
Quick Links
A couple more things you wouldn't want to miss.
Change the Weekly Start Day (M-S)
Run your meeting in the middle of the week and want to start Scorecard tracking on Wednesday, no problem! Change the weekly start day in settings.
Default Quarterly Measurables
There are certain financial and business metrics we recommend tracking Quarterly - so they have been added to your Quarterly Scorecard!
Join the thousands of other teams making data their superpower!
"It has been almost a full year using the Ninety program and we could not be more pleased as an organization. We are currently running 14 different Level 10 Meetings™ through the program and I could not image any other way to organize, share and hold accountability without Ninety."
"Ninety has allowed us to get on the same page with how we run our Level 10 Meetings™, and we finally have a great way to build and update the Accountability Chart. Finally, the support team at Ninety is top notch and very responsive when there are needs or creative suggestions to make the app better."
"We rely on Ninety.io to make EOS® a reality in our business. The software has given us a foundation for increased accountability and execution. It's simple to use and very effective. This is the app we would have built if we could have done it ourselves. I couldn't imagine implementing or operating EOS® without Ninety!"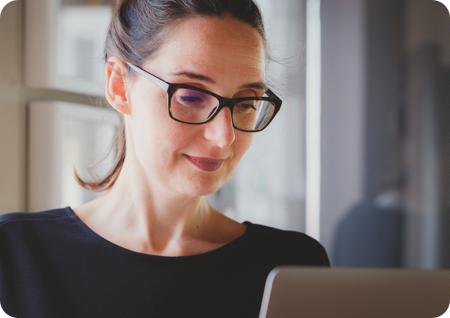 Interested in talking 1-on-1 with our team?
Real people, knowledgeable in EOS and Ninety.io.