Get extraordinarily productive in a "Work From Anywhere" world with Ninety.io
Ninety.io has all of the tools you need to keep your organization on track as you build a great company. Get your team started today with FREE access to a 30-day trial. No credit card. No contracts. No commitment. We guarantee you'll love it!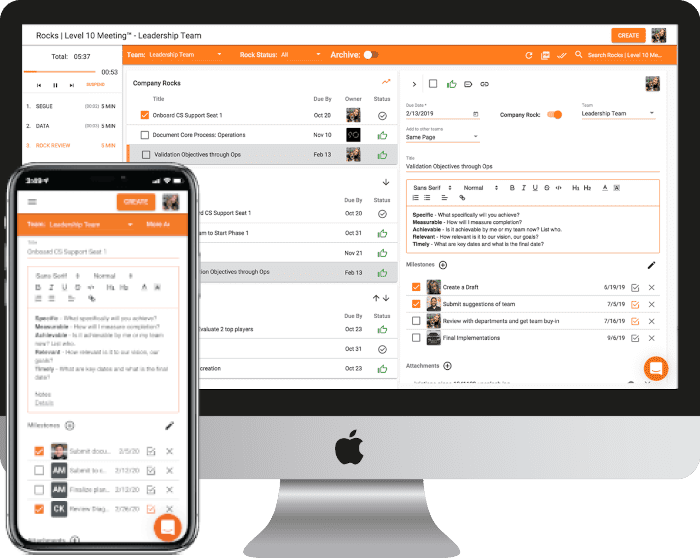 No learning curve. Ninety.io is intuitive to navigate, easy to use and contains every one of the essential tools you need.
Turn your data into a Super Power with easy ways to measure what matters and keep track over time.
Get real people, real-time responsiveness, and real support when you need it, making it almost easy to build great companies.
Ninety.io software is built for teams, integrating your vision to a work operating system. Manage Rocks, roles, metrics and goals – with new
features
added every month at no extra cost! Easy set up, training provided – Our team at Ninety.io will even upload your old data to give you historical comparison. Our cloud-based, integrated suite enables you to use our software anywhere so you can work together efficiently with easy access to all the tools you need.
More than

3,100+

companies choose Ninety.io
Ninety.io empowers teams with cloud-based company operating system software to keep your organization on track.
"We love the interface. The design is minimal and intuitive. The bottom line is it has allowed us to spend less time gathering information, and more time devoted to executing...."

Mebra Kisaka
Laney LA, Ince
"Ninety has become an integral part of our [company operating system] implementation. With a great system and team, we highly recommend it."
Briant Ficek
Spack Consulting
"We rely on Ninety to make EOS® a reality in our business, giving us a foundation for increased accountability and execution. It's simple to use and very effective."
Adam Langston
Access Worldwide