What is Ninety.io?
About Our Licensed EOS® Software
Whether you heard about

Ninety®

online, from a friend, or from your

EOS Implementer®, here's what you need to know about Ninety.io®'s cloud-based platform — including where we came from and

where we can help you go.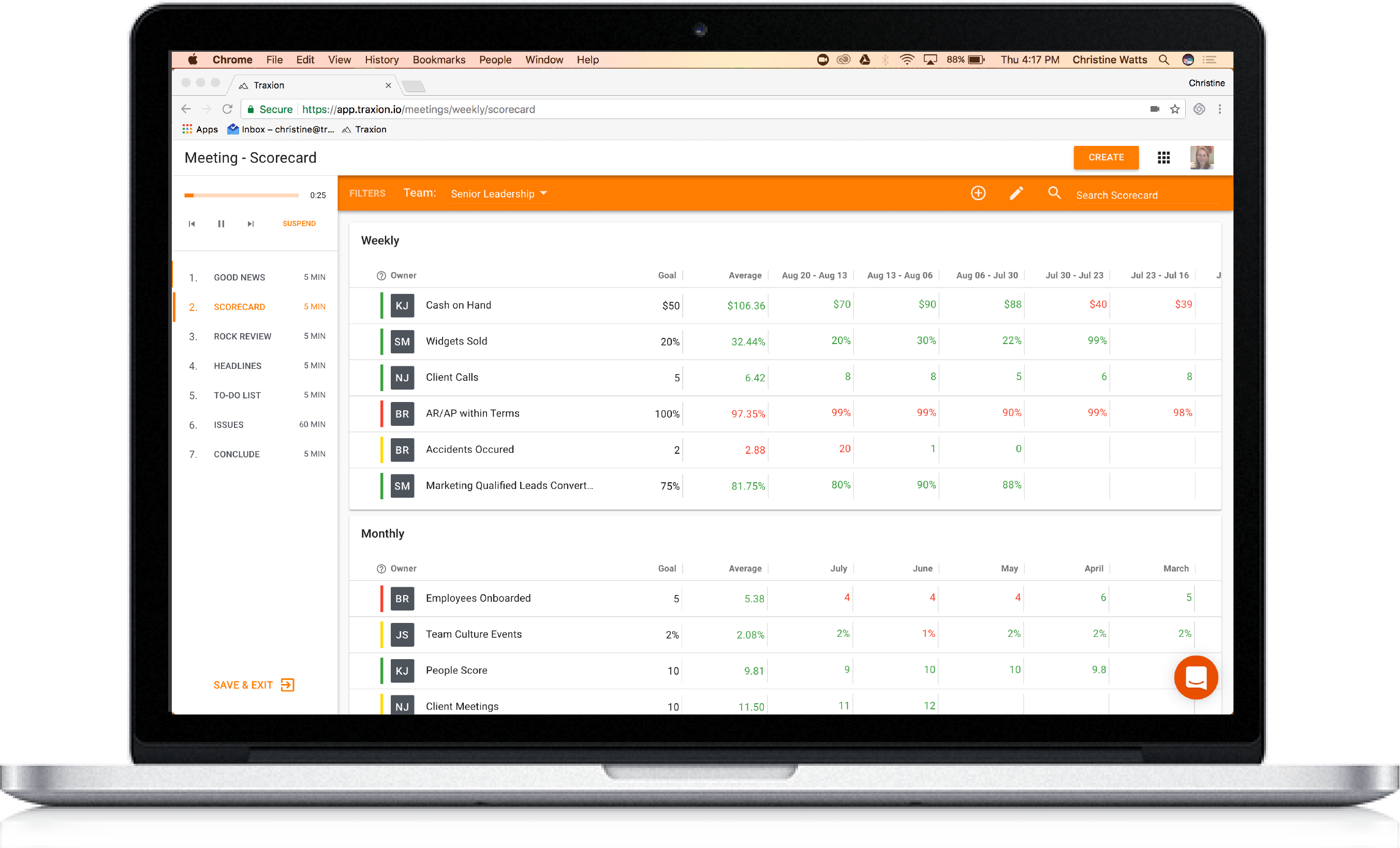 Built for Companies Running on EOS
"EOS®, the Entrepreneurial Operating System®, is a set of simple concepts and practical tools that has helped thousands of entrepreneurs around the world get what they want from their businesses and create a positive impact on the people and societies around them." - EOS Worldwide
Traditionally, companies implementing the EOS methodology do so with pen and paper. But, especially in today's Work from Anywhere World™, pen and paper just won't always cut it.
A group of EOS Implementers heard a persistent need from their clients: "We wish there were a kind of EOS software — something that makes it easier to share EOS Tools® throughout the company."
To meet this need, Mark Abbott developed a software platform called Ninety.io. Ninety's online, cloud-based source for the EOS Tools makes it easier to archive and access information, and automates everyday aspects of the EOS Process®.
See how Ninety can make it even easier to implement EOS at a company level with a free 30-day trial.
Our Story, Your Story
Since Ninety's inception in 2017, companies who utilize (or who want to utilize) EOS in their organization have turned to Ninety as a simple, online platform for helping them put the tools, disciplines, and principles into practice. When EOS Implementers and coaches work with a business to help them start their EOS journey, they frequently encourage them to use Ninety as their primary company-wide platform.
That's why you'll see EOS terminology interwoven throughout the Ninety platform — we were built to help companies running EOS. But word of mouth spread, and now thousands of companies, many of whom have never heard of the EOS business methodology, use Ninety to keep their organization connected and on track.
In short, we can help make life easier at any company.
Helping All Companies Grow, Refine, and Thrive
Because of Ninety's reputation as EOS software, many new users have asked, "What if I don't know anything about EOS? Can I still use Ninety?"
Absolutely. You don't need to be running EOS in order to use Ninety. Here's why:
Regardless of whether you're implementing EOS or other business methodologies, or if you're just looking to improve and grow your company, Ninety can transform an organization just like yours. (And we've got the track record to back it up.)
Our company-building platform helps all small to midsized businesses and nonprofits enhance their ability to:
Enhanced meeting management.
Reflect on what's important to them — from a personal to an organizational level.
Document and share the organization's visions, goals, and progress, so everyone understands what's happening within their own company.
Communicate more effectively and accurately — the expectations for a new hire, the details of an assigned task, departmental and company-wide updates, and more.
Get serious about monitoring data and measurables, so they can all make informed decisions that move the needle.
Genuinely start to love their work again. Our platform will reduce (or eliminate) some of your daily sources of frustration and give you a framework to get you on track.
Want to find out how Ninety can help your team improve collaboration, trust, and productivity? Start with a free, all-access 30-day trial now.
Here's What's in Ninety's Platform [and How it Helps You]
If you're familiar with EOS, you'll probably recognize some familiar items from the EOS Toolbox™ housed within Ninety. But even if you're not familiar with EOS, the functionalities within Ninety can help you achieve the alignment, consistency, productivity, and transparency that you've been looking for.
Here's a peek at the features inside the platform:
Want to dig deeper into Ninety's capabilities? Read more about each functionality in our tools and features section.
FAQ about Ninety's Software for EOS
If you've got questions about Ninety or our connection to EOS, here's where you'll find answers!
If we haven't covered what you're looking for, just click the chat bubble in the lower right corner of your screen, and someone will be there to help.
Our team is ready in the bottom right hand corner 7 days a week!